I previously published this post away back in 2013 and felt that it needed a bit of updating with some new images plus I added a ghost version of the DIY Soap Dispenser as well.
I had my eye on a Bath and Bodyworks' Jack O' Lantern soap dispenser on eBay but with shipping from America on top of the price of the dispenser meant it was over £25! Luckily someone in my work was going to America on holiday to Las Vegas, San Francisco, Palm Springs and Los Angeles (alright for some) so I asked him if he would be able to get me one while he was away. Unfortunately he was unable to get me one 🙁 as they only had Pumpkins
(for Autumn, or fall if you are over the pond)
rather than the Jack O' Lanterns. So I thought that I could maybe make my own Halloween Soap Dispenser.
These are so easy to make and would be an ideal craft for the kids to do for Halloween.  If you have green liquid soap you could make that one into a Frankenstein if you don't want to do the ghost or Jack o Lantern.
DIY Halloween Soap Dispenser
What you need:
Orange Coloured Soap Dispenser for a Jack O' Lantern White Coloured Soap Dispenser for a Ghost Baby Oil
(to remove label sticky residue)
Scissors Black Self Adhesive Vinyl Ribbon
How to make:
Remove the label from the bottle. If there is any sticky residue, remove by rubbing baby oil with kitchen paper towel over the surface.  This should dissolve the glue. Cut eyes and a mouth from the self adhesive vinyl and stick on to the soap dispenser. Tie a ribbon around the neck of the bottle.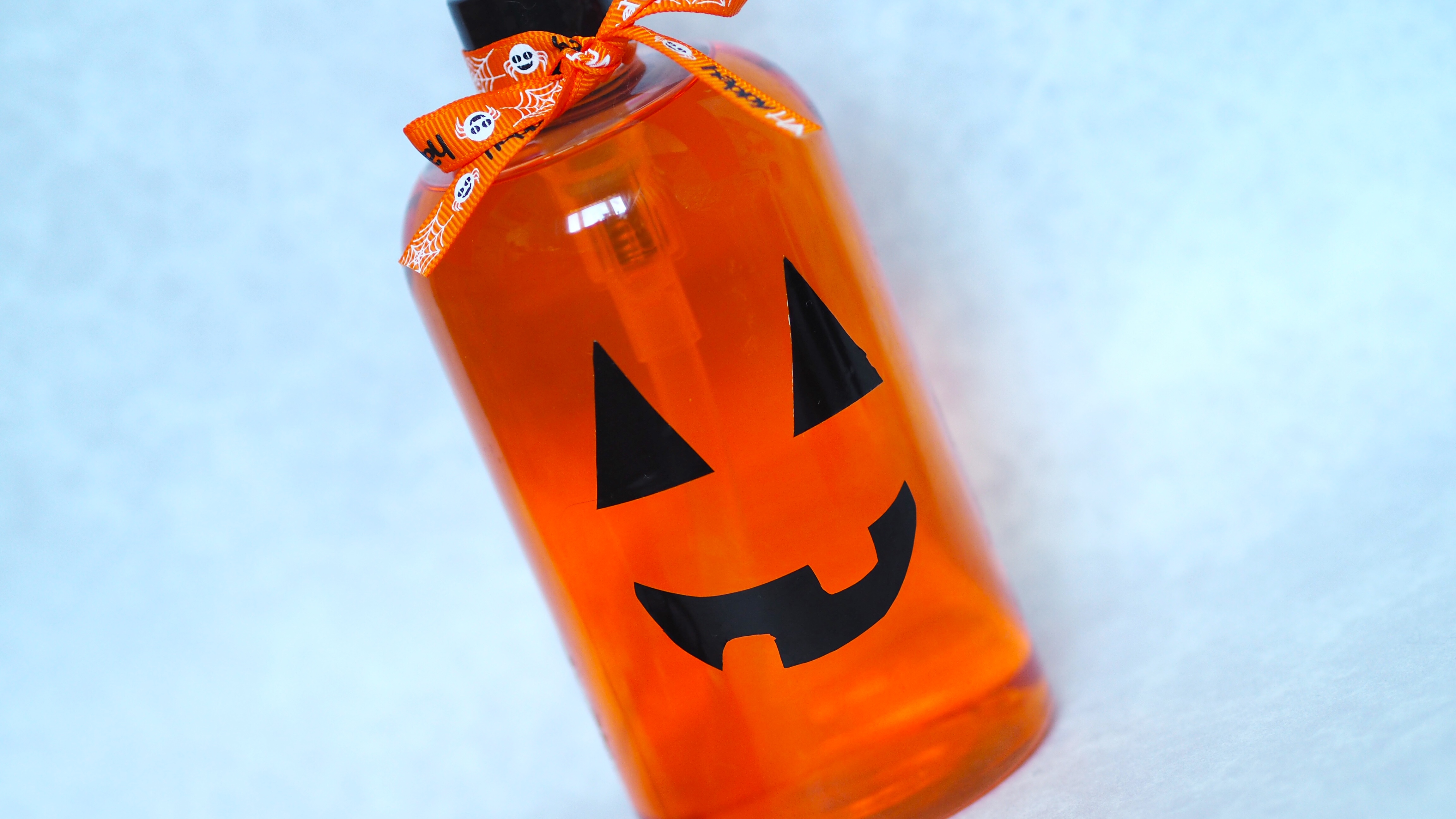 Do let me know if you give these DIY Halloween Soap Dispensers a try! If you are looking for more Halloween posts: