It was the Aldi Baby and Toddler event a few weeks ago and  I picked up several items from their sale with huge savings.  I bought them all online because I'm lazy  as some of the things were quite bulky and I wouldn't get them in my car.  Also you can order them online before it becomes available in store although you won't receive them until after the date they are released.   You can pick up loads of items quite cheaply at the Aldi Baby and Toddler event which is good news if you have quite a bit to buy.  So what all did I buy?
Nappy Caddy
Noah is getting quite heavy to carry up and down the stairs every time he needs his nappy changing so to make things easier I picked up this nappy caddy.  It has two compartments that are big enough to hold a stash of nappies, wipes and nappy sacks, two small pockets at the front where you can store things like nappy cream and anti-bac hand gel.  It does come with a changing mat similar to the ones that you get in changing bags but as I don't really like those I have a wipeable changing mat instead.  This means I have everything in one place and saves me having to trail up and down the stairs each time he needs a nappy change.
Lullaby Owl
The lullaby owl is a cute sleep aid similar to the Gro Company one but at a fraction of the cost at £7.99.  The lights change colour but it does only play one song, 'Twinkle, Twinkle, Little Star' and this goes on and on……….and on for around 30 minutes. The same song on repeat is more likely to send me round the bend than send me to sleep!!
Hauck Stair Gates
Now that Noah is able to shuffle himself around it's only a matter of time before he starts crawling.  I picked up 3 of the stair gates (2 for us and 1 to have at my parents) which were priced at £12.99 each.  They fit the width 75-80cm but you can buy extensions to make it wider if needed.  We have put one at the bottom of the stairs and one at his bedroom door.
Mamia Highchair
I decided to get another highchair to leave at my parents for when we go round.  We already have the Joie Mimzy 360 so didn't want to spend a lot of money on something that won't be used regularly. The Mamia highchair is only £10.99 so it is an absolute bargain.  Admittedly it is a bit plasticky (is that even a word?!) but i think it works well for occasional use rather than for all the time.  It can be used up to 3years old or under 15kg.
As it's only a few months until Christmas I decided to start early this year with my Christmas shopping, partly because after October I will no longer be receiving maternity pay so that will be three months of no pay until I go back to work and also as I don't get much done during the day since Noah doesn't sleep it will give me a head start.
That's Not My……Books
I bought 'That's Not My Pirate' and 'That's Not My Tiger' for Noah's Christmas as he likes being read to as well as looking at the pages and touching the embellishments on these books.  If you are not familiar with the 'Thats Not My….' books they are perfect for babies and toddlers with their cardboard pages and different textures for them to touch.  They were priced at £2.99 each so are much cheaper than the £6.99 RRP.
Peter Rabbit Pyjamas
Noah's bedroom is Beatrix Potter themed so has a lot of Peter Rabbit things in it so I picked up these pyjamas (also a Christmas present) to match his room.  I bought them in a size 12-18 months as he will likely be fitting into them just after Christmas and they cost £3.99.
Baby Mickey Shape Sorter Bus
Yep, you guessed it!  This is another Christmas present! The Baby Mickey Shape Sorter Bus also came in a Baby Minnie version if you prefer, I bought this as it is for 10 months+ which is the age he will be at Christmas.  It will be an ideal toy for learning about co-ordination etc and was £7.99 which is a decent price.
Baby Mickey Stacking Cups
Noah is just about sitting unaided, he sits but then falls over like his Mummy used to after a few Blue Wkds.  These stacking cups will be good for him to play with once he is able to sit up by himself.  They can also be played with in the bath.  This toy is suitable for 6 months+ and was also £7.99.
Boat Wind Up Bath Toy
Noah's bathtime is a family affair, either myself or his Dad will give him a bath but both Freddie and Violet like to be in the bathroom too.  Violet sits on the toilet seat and Freddie sits on the edge of the bath watching what's going on.  I have already bought him the wind up car bath toy but also picked this boat one up as it squirts water too.  They were priced at £3.99 and can be used both in and out of the bath.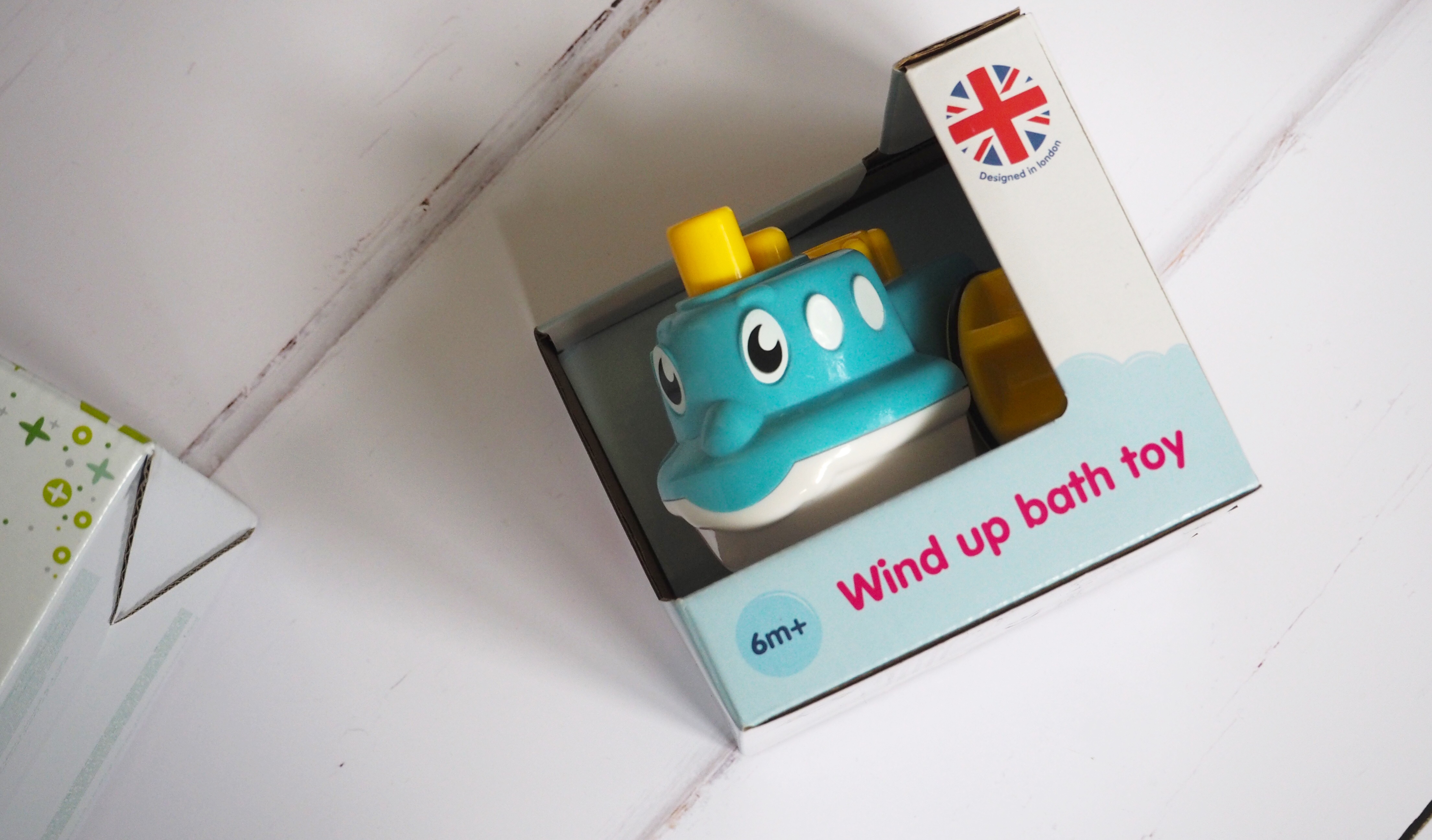 Did you pick up anything from the Aldi's Baby and Toddler Event?  
I'm taking part in the Mummy Monday linky with Becca from Becca Blogs It Out.
If you are looking for other parenting posts:
How To Save Money On Baby Items
10 Things You Discover When You Become New Parents