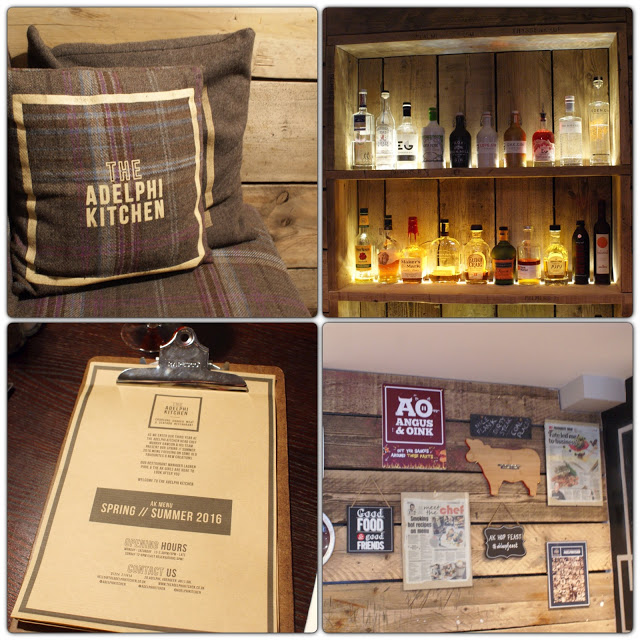 When the invite appeared in my mailbox to try out the new menu at Adelphi Kitchen, I immediately replied that I would love to go as it is a place that has always been on my "must try" list but just hadn't got round to doing.  The Adelphi Kitchen is a small cosy restaurant hidden away just off of Union Street on Adelphi Lane. It is known mostly for its meat and seafood but they also have a few vegetarian options on their menu too.
We were greeted by Chris Tonner who owns the restaurant and his lovely staff who made sure we all had a drink on arrival, I had the non alcoholic Summer punch which was a lovely berry mocktail and there was an alcoholic version for those that wanted a drop of the hard stuff.  Chris gave us the background on how Adelphi Kitchen came about after deciding to refurbish and rebrand the restaurant from La Stella, its previous incarnation.
We were going to be sampling the new Spring menu, I didn't however realise we were going to be sampling all of it so I'm glad that I had been saving myself all morning for the tasting session ahead of us. We shared the starters between 2 or 3 of us, otherwise I think we would have exploded from eating too much food.  There will be lots of photos of the food we tried in this post to make you drool.
When the mussels came out in their pots my heart did sink a little as I don't like them, I have found them rubbery and also gritty in the past so it's always something I have avoided while eating out.  These mussels were a nod back to the days when La Stella was open and was one of their popular dishes, they were cooked in a creamy garlic sauce with smoked bacon and cider.  I was here to try out their menu though so I tried one, then another, and another until I had tried quite a few of the mussels.  They tasted good.  So good that now I actually do like mussels. Who knew?!
Next out was Beef Rib, a mac n cheese dish with slow cooked beef rib and crispy shallots. As I said earlier I was so excited that I got an invite that I forgot to tell them that I have a love-hate relationship with gluten. I love foods that contain it but gluten hates me, so I did what every person that's body freaks out when they eat gluten do, yes I
did not eat any
 ate it! It was sooo good and totally worth the bloating and tiny tummy ache that I got with it. It gets 5 stars from me!
This was then followed by the sugar cured and smoked beef which although looked like a piece of raw meat, tasted lovely and the Peterhead crab.  I first tried crab at 7 years old on holiday in the Norfolk Broads, I didn't like it.  I tried it again last year from Sainsbury's thinking that maybe my now adult tastebuds might like it, nope they didn't.  So I wasn't expecting to like this dish but I did and it is one that I would definitely go for again.  So now I like mussels and crab, what is this trickery they perform in their kitchen?!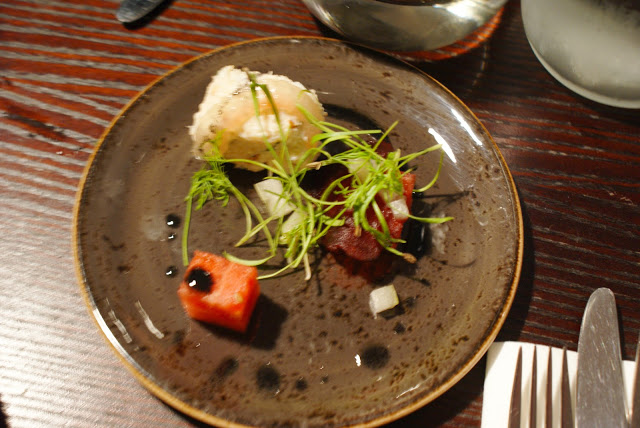 Their lamb starter came next with a broth to pour over it, I don't like lamb and even though Murray the chef has worked his magic with getting me to like mussels and crab, I still don't like lamb as I find it quite a strong bitter meat.  It was really tender and the veg was cooked to perfection so you would probably enjoy this dish if you loved lamb.  The salt cod was nice too, and came along with some tomato orzo on the side.  The scallop special was also one of my favourites, it came with a black pudding Bon Bon and cauliflower purée. Yum!
Even though we consumed all of the above it was now time for the mains; the fish dishes were a North Sea Halibut cooked with a Tikka coating (this seemed to go down quite well with most of us there) with langoustine tempura and a Crispy Sea Bass dish that I found too fishy for my tastebuds.  The meat dishes were Charcoal Cooked Rib Eye and the Salt and Pepper Beef Short Rib which was so tender that it just fell off the bone.  These were served with the most amazing chips I have ever tasted, they were huuuuge and were light and fluffy on the inside while still being crispy on the outside. It isn't even 1030am yet and I am now craving those chips!
For the vegetarians amongst you, there are delicious foods available for you too with; Mac n Cheese, Mushroom Hash and Cheese and Mustard Puff Pastry Roll.  Read
Sarah's
review on the vegetarian dishes she tried.
Even though we had just eaten our body weight in food, it was time for the desserts, there were 3 sweet dishes for us to try; Popcorn Pannecotta, Lemon Meringue and Chocolate Mousse Cake which were all really nice but if you had eaten heavy meat dishes then you would be better going for the Pannecotta or Lemon Meringue as they were nice and light rather than the Chocolate Cake as this dessert may be too rich after such a big meal.
The Adelphi Kitchen has a warm, cosy atmosphere with the most lovely staff (and amazing chefs) and I will most definitely be back again for the Peterhead Crab starter and the Salt & Pepper Short Rib. Yum!  You can check out their delicious menu
here
.
I'd also like to thank Chris and his staff for inviting, looking after and feeding us, you guys done an amazing job and it's well noted how passionate you all are about what you do.
Disclaimer:  I was invited to try the new spring menu, all thoughts and opinions are 100% my own.  
Please follow and like us: